About Speedy Office Solutions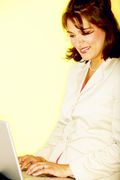 I have owned and operated The Most Office, a pack, ship and office solutions retail store, for eight years and prior to owning my own business, I supported and performed administrative work for attorneys, as well as for corporate and private firms for 30+ years. During that time I have been a secretary, executive secretary, sales assistant, customer service representative reporting to the Sales Managers, Partners, Sr. Partners, Vice Presidents, Presidents and owners. On many occasions I had to juggle several tasks at once and prioritize the workload according to importance and demand. For several years, I was also a tour guide in North Africa and Eastern Europe. Also, during a stay in Romania one summer I filled in as a Nanny.
As the owner of The Most Office, the retail environment was fast-paced and jobs had to be completed accurately and appropriately, sometimes with little or no advance warning.
Resume:
PROFESSIONAL BACKGROUND
Highly intelligent, energetic, disciplined and self-motivated professional with business operations and entrepreneurial skills, corporate sales and marketing background and travel and tour guide experience.
SUMMARY OF SKILLS
Experienced business operator, entrepreneur, sales, marketing, and personnel manager

Knowledgeable shipper in such environments as UPS, FedEx, Freight and U.S. Postal Service

Comfortable with Adobe products such as PageMaker, Quark, Photoshop and Illustrator

Highly familiar with Microsoft products such as Word, Excel, Publisher, Outlook and Explorer

Skilled machine transcriber with knowledge of medical, legal and technical terminology

Knowledge of QuickBooks, Quicken, SAP, and other proprietary software

Broadly experienced writing grammatically precise documents, resumes and business publications

Highly customer focused with excellent written and verbal communication skills

Able to anticipate, comprehend, meet and exceed customer expectations

Highly organized, task and detail oriented with the ability to learn quickly

Able to work well under pressure and manage multi-tasks with accuracy

Possess a positive, "can do" attitude, flexible and enjoy working with and assisting the

WORK HISTORY
2006-Present
TEENAIDS PEERCORPS, INC. (non-profit organization)
Office Assistant/Consultant – (part time)
Assist with fundraising activities, budgets, mailings and general office tasks.
1997 - 2006
THE MOST OFFICE, Fitchburg, MA
Owner/Operator
Operate fast-paced retail pack, ship and office solutions business. Also promote, market, manage and perform other duties in the daily operations of the business.
1989 - 1997
NOVA CHEMICALS INC., Leominster, MA
Customer Service Specialist - from 1995 to 1997;
Sales Assistant - from 1992 to 1995 - reported directly to Director of Sales overseeing U.S. and N. American Polyethylene Sales group;
Exec. Secretary for Director of Marketing - Polystyrene from 1989-1992
Exec. Secretary for General Mgr. - Polystyrene from 1988 to 1989;